Jerry's Tour of the Alps 2012 – Wednesday July 4th
Vrchlabí — Vrbatova Bouda — Kaplicka/Modré Sedlo — Karpacz — Przelecz Okraj — Jez. Sosnówka — Spindlerova Bouda/Karkonoska Przelecz — Vrchlabí (159 km, 4098m, max 24%, 14-24°C)

The tour this year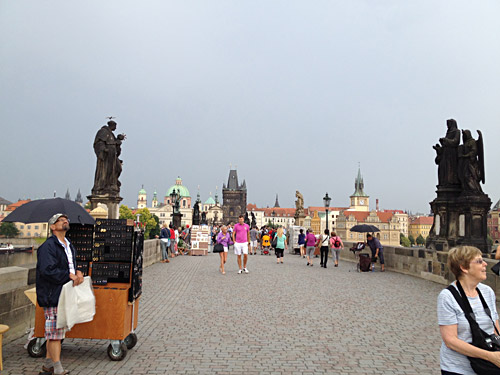 It was a very complicated scheme for this Summer that I had concocted, but I succeeded in following it. After the first company I had booked a flight ticket to Prague went out of business, I managed to get another ticket with another company. I arrived in Prague on July 2nd and had a ride with Pavel (from Prague) that day. Pavel is, just like me, a member of the Belgian BIG club that were arranging a meeting for 5 cycling days in the Tatras mountains this year that we both had decided to take part in. Pavel took me on a nice tour outside Prague and we visited two good pubs before getting back. [Re-reading this first paragraph written in 2012, now in Dec. 2016 as I am finally attempting to complete writing the story for 2012, I recently learned that Pavel had a fatal accident on his bicycle not long ago and is no longer with us – very sad and had hoped to hear from him again.] The day after I had some sight-seeing in Prague with another Swedish BIG member, Fredrik, before we all joined Daniel Gobert (who is the BIG president from Belgium) and Kevin from England. They arrived in a big car so we could all get our bicycles in and continue to the mountains.
Note: Internet Explorer is not recommended. Instead use a good browser like Opera, Chrome, Safari or Firefox. These pages looks best in Safari on a Mac.
First we were to visit some mountains on the way to the Tatras were the BIG club had found some suitable climbs for their list of 1000 climbs around the world (mainly in Europe). The highest mountains in the Czech republic are the Krkonose/Karkonoszy mountains. Photos and information on this Polish site. We arrived in the evening in Vrchlabí, where we met up with many others coming from all around Europe to take part in the meeting/cycling. The next morning on July 4th we started in less than good weather with a car ride to the start of the first climb to which I had previously planned to cycle to, but did not want to in the rainy weather.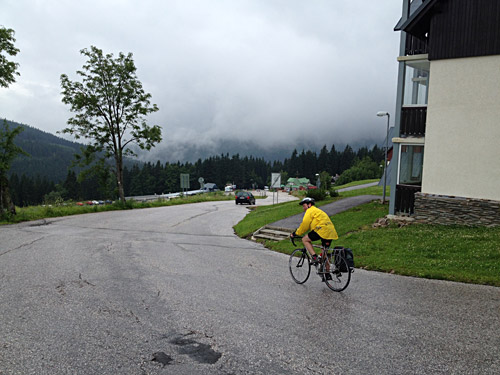 The rain held back most of the time later on and the weather improved during the day.